You know, I was never really a big cheesecake guy… until I learned how to make it. Now, it's pretty much my favorite. Greg was more the cheesecake guy and he's been dying to do a keto cheesecake forever, suffice it to say he was not disappointed.
In fact, we've been talking to Rocco from Rocco's Cheesecake in Santa Monica about low carb sugar free cheesecake varieties and he was very much intrigued.
We brought a slice in for Rocco to try and he gave it the thumbs up! So, if you're in the Los Angeles area make your way over to Rocco's and just maybe he will have a keto friendly cheesecake ready to go! Otherwise definitely swing by and grab a slice for your cheat meal. We do pretty much every week.
In regards to keto-fication of foods this was a pretty simple one. Using confectionary erythritol instead of sugar was not much different from a standard cheesecake recipe. I would suggest using the confectionary over the granulated unless you want the granularity in your cheesecake, FYI nobody wants that! The crust was mainly almond flour rather than standard carb based crust and that's pretty much it. It's primarily cream cheese.
This required a spring form, which you can get at most home goods stores or amazon of course!
The Crust Ingredients…
2 cups Almond Flour
1 teaspoon Vanilla Extract
3 tablespoons Erythritol (for crust)
6 tablespoons butter
The Filling Ingredients…
32 oz. of Cream Cheese (4 blocks)
1 ¼ cup Confectionary Erythritol
3 Eggs
1 tablespoon Lemon Juice
1 teaspoon Vanilla Extract
The Topping…
2 cups Blackberries
2 tablespoons Lemon Juice
1 cup of water
½ cup Granulated Erythritol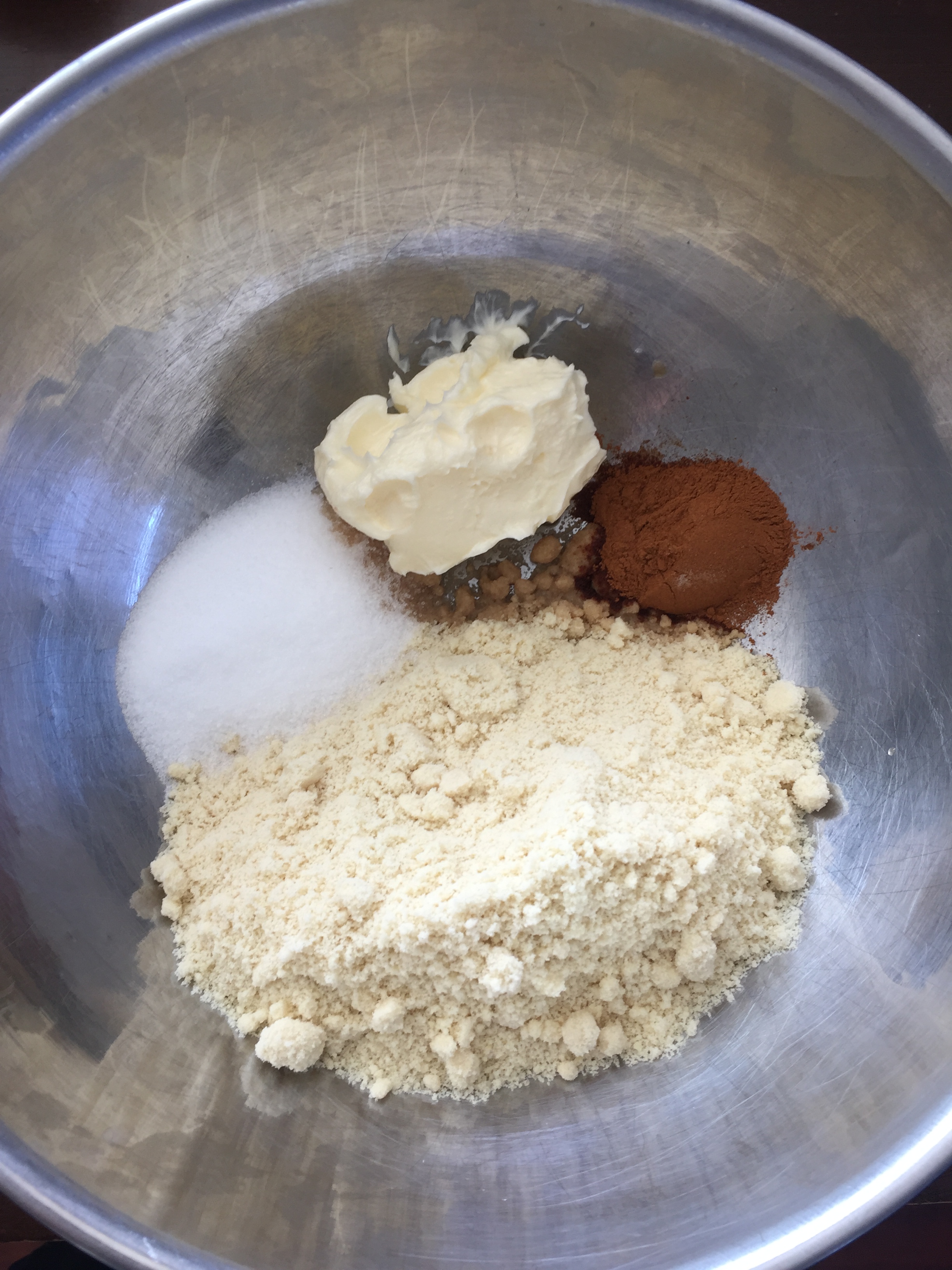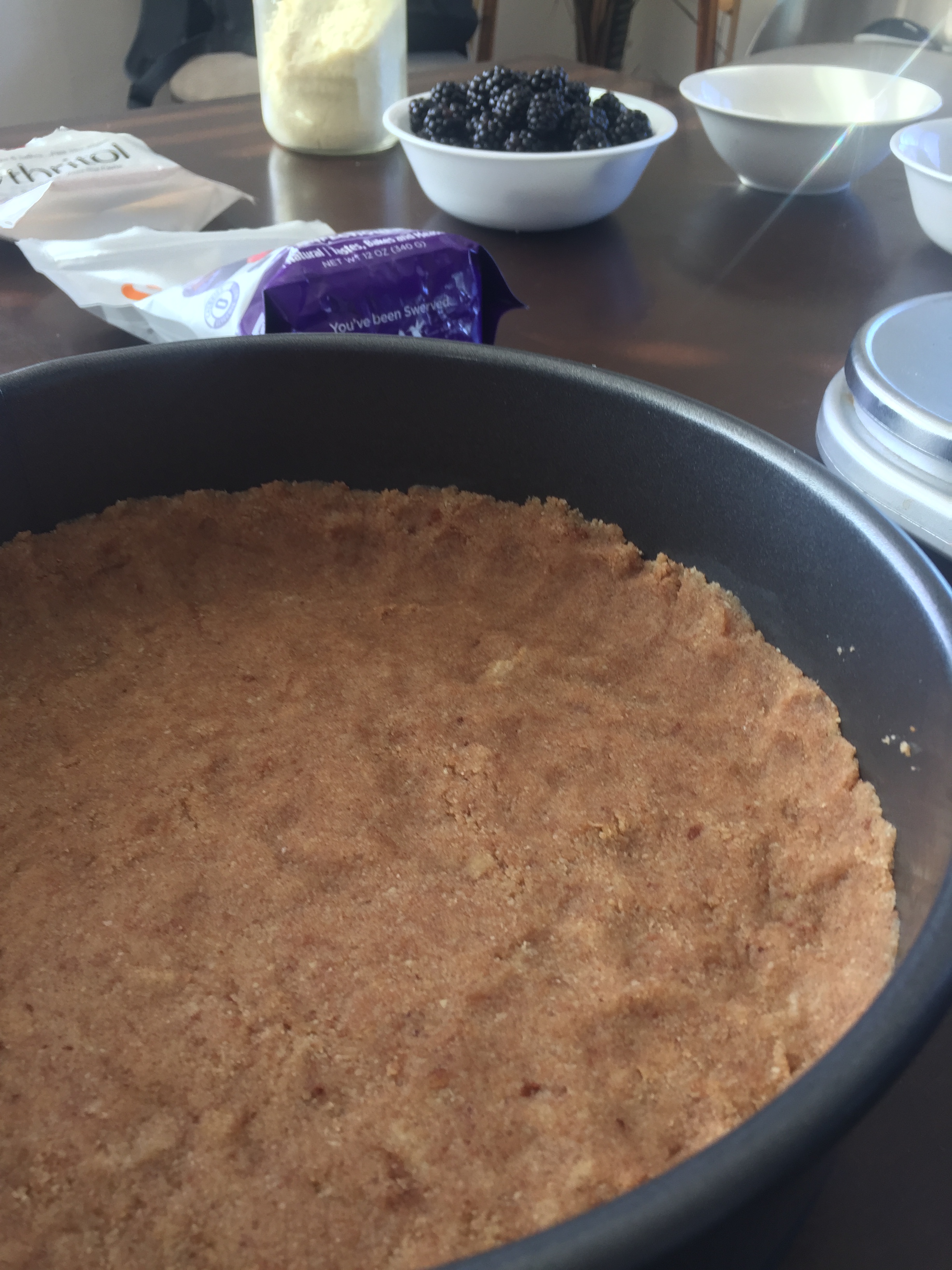 The Steps…
Preheat oven to 350F
Making the Crust. In a large bowl mix together almond flour, melted butter, erythritol and vanilla extract until well combined. The dough will be a bit on the crumbly side.
In a greased pan (use butter) press the dough into the bottom of the prepared pan.
Bake for 10-12 minutes and then allow at least 10 minutes to cool.
While the crust is baking, we're going to make the filling!
Beat the cream cheese and powdered erythritol until it's rich and fluffy.
Next, beat in the eggs one at a time. *
Finally, beat in the vanilla extract and lemon juice
Bake for about 50 minutes, at 350 until the center is almost set and jiggly. It will still be a bit "liquid" in the center because the cream cheese is melty. So, if you poke it, it will definitely not be dry coming out.
Cool in the spring form pan until room temperature.
Refrigerate until completely chilled and set. Give it at minimum 4 hours, preferably overnight.
Making the Topping…
You can pretty much sub this recipe with any combination of berries. Raspberry or blueberry would be equally as tasty.
In a pan mix all ingredients cook on low heat, covered.
Mash the berries and mix everything together. Uncovering to mix every few minutes.
Allow the water to evaporate leaving you with a rich and thick blackberry glaze.
The slower you do this the better. You want to evaporate most of the water but you don't want to boil it on a high high heat because this will burn the berries taking away from the natural flavor
Once done, top the cheesecake and enjoy!
*You want to let the eggs emulsify with the fats and adding them all at once prevents the eggs from doing that. This is why with most wet ingredients you want to mix in gradually.
The Macros...
These are pretty big slices FYI...