Nothing quite compares to the flavor of a freshly made pesto sauce. The robust flavor of the basil, the sweet buttery texture of the pine nuts and a good rich olive oil. It all comes together in a flavor bomb for your mouth, plus the time commitment is so minimal for what it can do to your meal prepping! I'll make a pint of pesto and keep it in my fridge to use throughout the week. This is a good healthy boost of fats when made at home, but you have to watch out for the grocery store brands. More of often than not when you look at that tiny ingredient section on the back of the label the first ingredient is usually soybean oil or canola oil, which makes sense because it's cheaper to manufacture but not so great for your health.
These oils are high in polyunsaturated fats which are very unstable and are more susceptible to oxidation. Oxidation makes the oils rancid and loaded with free radicals, which is the first step down a path of poor health. Oxidation is more likely to happen when these oils are exposed to heat and light.
Canola oil for example is made from an industrial seed called the rapeseed (seriously, who came up with that name?). This seed has been used for years as a cheap and easy to manufacture industrial oil. So, a team of scientists got together and performed some extremely high heat processing to alter the oil into a liquid, edible oil.
Wait didn't we just say high heat to polyunsaturated fat makes it damaged and oxidized?
Yup. Totally rancid and damaging right out of the gate. Bottom line is that oil based sauces, marinades and dressings are almost ALWAYS cut with these damaged oils because they are cheap. So steer clear my friends!
These Chicken Pesto Eggplant Roll Ups are loaded with healthy oils from the pesto, vitamins and minerals from the eggplant and spinach and the free range chicken thighs supply a healthy dose of proteins and Omega-3s like DHA and EPA which are great for good gut health.
Real foods are always the best way to balanced nutrition and well rounded meals like this are exactly how to do it!
So, let's get down to business…
The Ingredients…
1 Medium Eggplant
1 pound of chicken thighs
2 tablespoon olive oil
2 cups Spinach
½ cup of pesto sauce (Click link for authentic pesto recipe!)
4 ounces of mozzarella cheese
¼ cup Parmesan Cheese
Garnish with Fresh Basil
Salt and Pepper to taste
**I will admit that cutting the eggplant into thin slices wasn't exactly easy. One eggplant yielded about 10 roll ups, mainly because I messed so many of the damn slices up! Lot of excess eggplant left over, but that will come with practice, and you can use it for other things like sauteed with zucchini, red pepper and cauliflower!, yum yum!
Here is a quick cutting techqine video that shows exactly how the eggplant should be cut:
The Steps…
Cut eggplant into thin slices, roughly about ⅛ of an inch. This was the most difficult part for me. Cutting thin, even slices was not my strong suit.
Let the eggplant rest, salt each piece and lay them out on an oven sheet or cutting board, on top of some paper towels and cover with paper towels as well. Let them rest for a good 20-30 minutes. These are thin slices so they'll dry out much faster, but we don't want soggy eggplant so be sure to give them the time they need.
Preheat oven to 400F
Heat 1 tablespoon of olive oil in a pan on medium heat. Cook chicken for about 5-6 minutes on each side. Seasoning lightly with salt and pepper (about ½ of a teaspoon each). Remove and let rest for about 10 minutes. Reduce pan to low heat
Next, while the chicken is resting grill your eggplants. I used a grated skillet, which gives the eggplant slices the cool looking grill marks, but a regular frying pan works just as well. You're going to want to do this on a dry pan at medium heat. Cook them very lightly , so they brown a little bit, but don't lose their stability. About 2 minutes each side and not the same pan as the chicken, we're still using that.
Dice chicken into cube size pieces
On low heat, add the spinach to the original pan and mix as much of the oil and chicken drippings as possible. Add the pesto sauce (saving a little bit to drizzle over the top) and mix. Let the spinach reduce for about a minute and then add back the chicken. And mix until the pesto is evenly distributed and the spinach is reduced to your liking. About 1-2 minutes.
Remove everything from pan and put into a bowl.
Lay out your grilled eggplants. On the wider end add a piece of mozzarella, a scoop of the chicken mix and sprinkle the top with parmesan cheese.
Roll eggplants up starting at the wide end. You should have enough mix for at least 8-10 roll ups.
In an oven safe pan, coat the pan with remaining olive oil and lay the eggplants down with the end of the roll down (this will keep them from opening) or use a toothpick if necessary.
Top the rolls with the remaining pesto sauce giving them a thin coat.
And Finally top the rolls with the remaining mozzarella and parmesan. Garnish with fresh basil.
Bake for about 15-20 minutes. Remember, you are really just looking to melt and brown that mozzarella a bit. So check it at 15 minutes and if you see the mozzarella starting to crisp up, you're good! .
Serve and enjoy.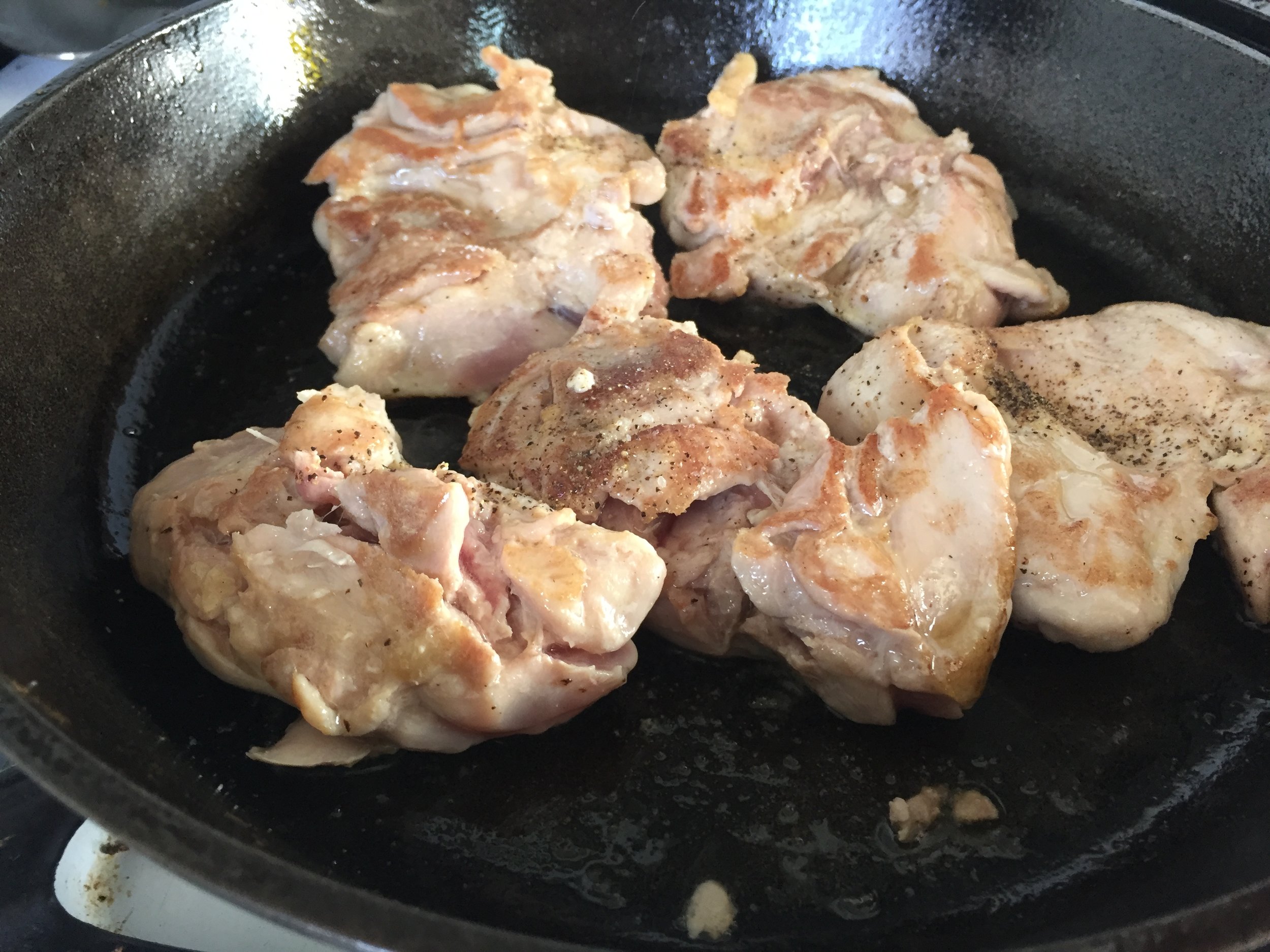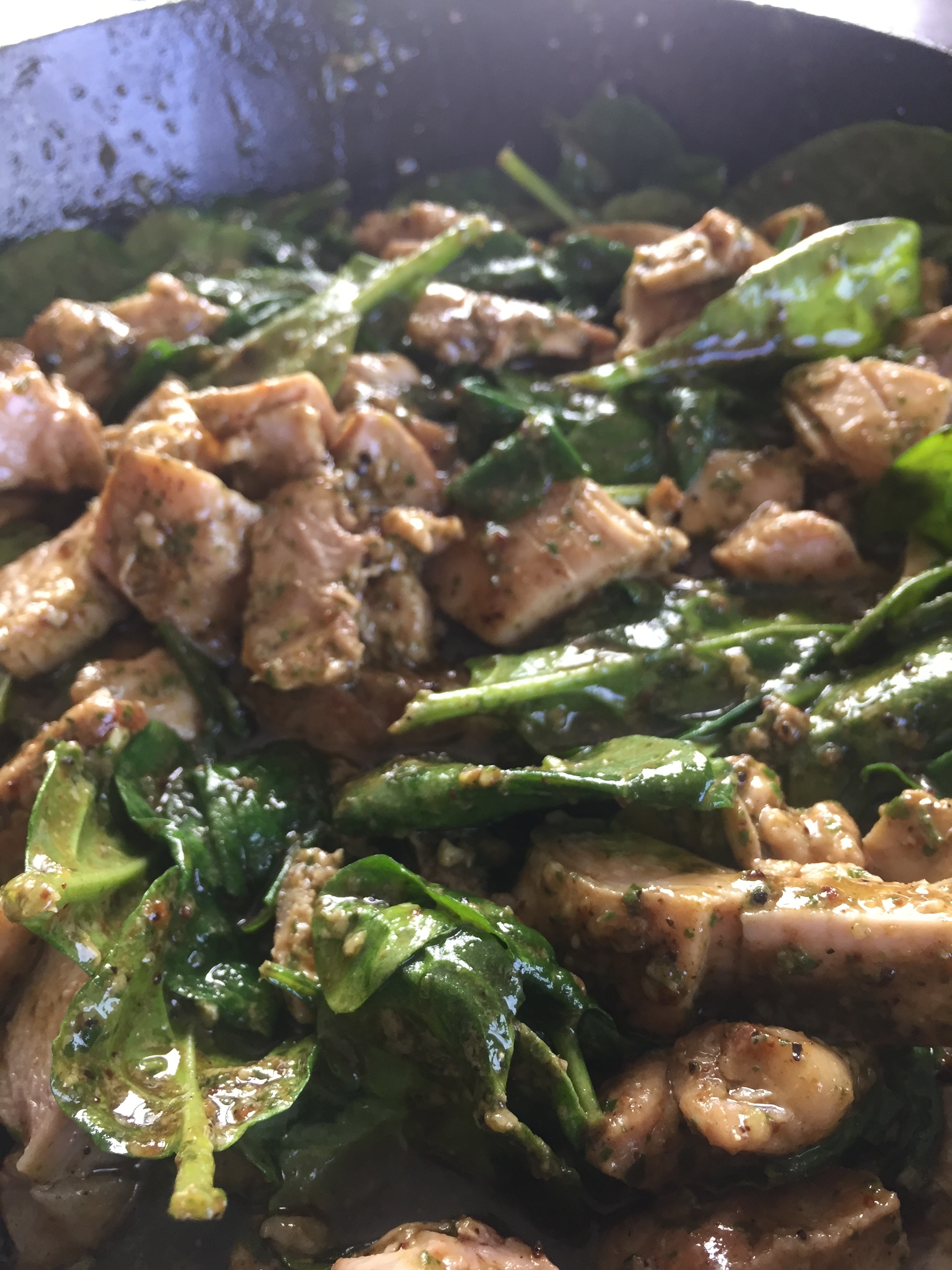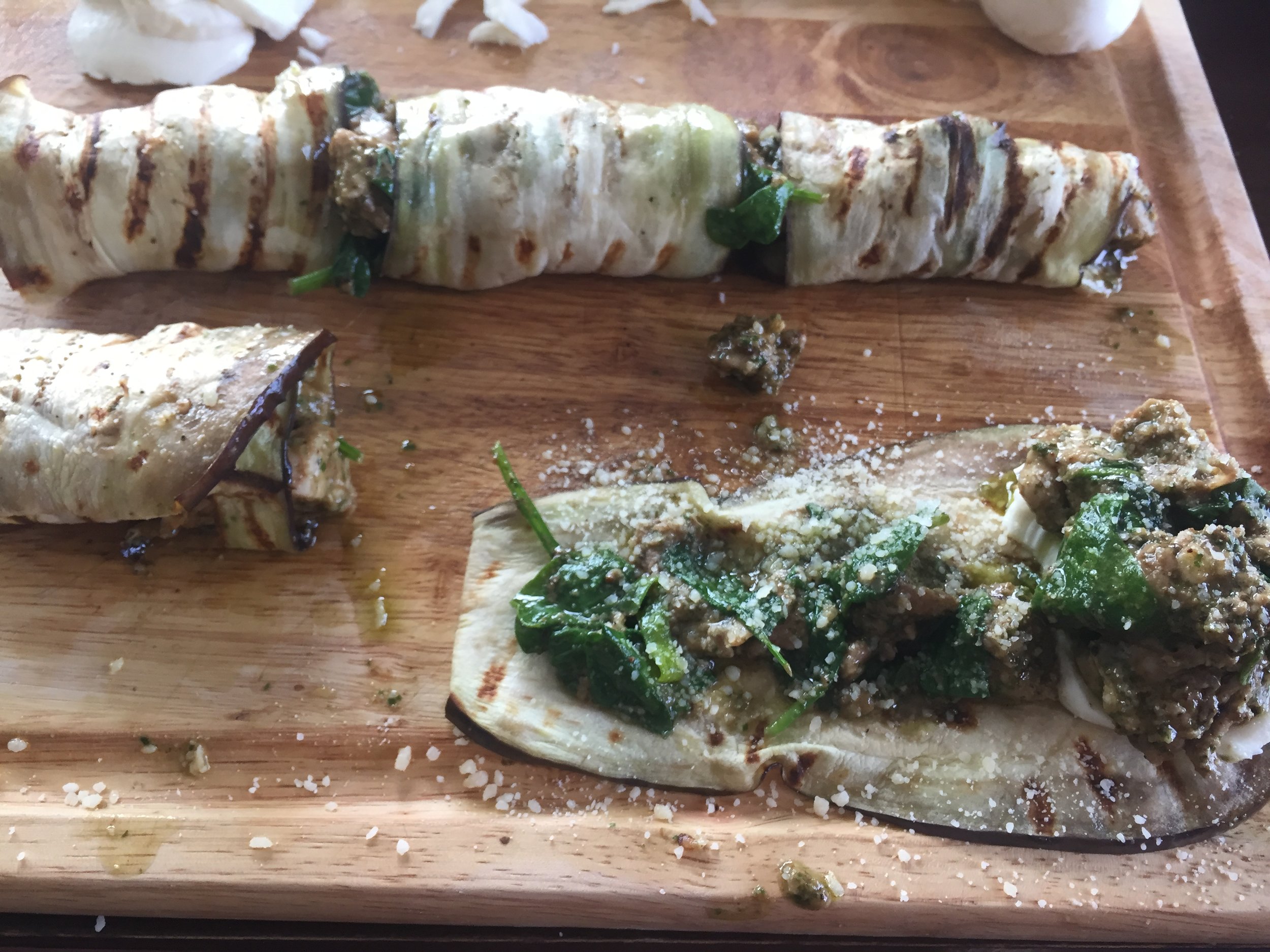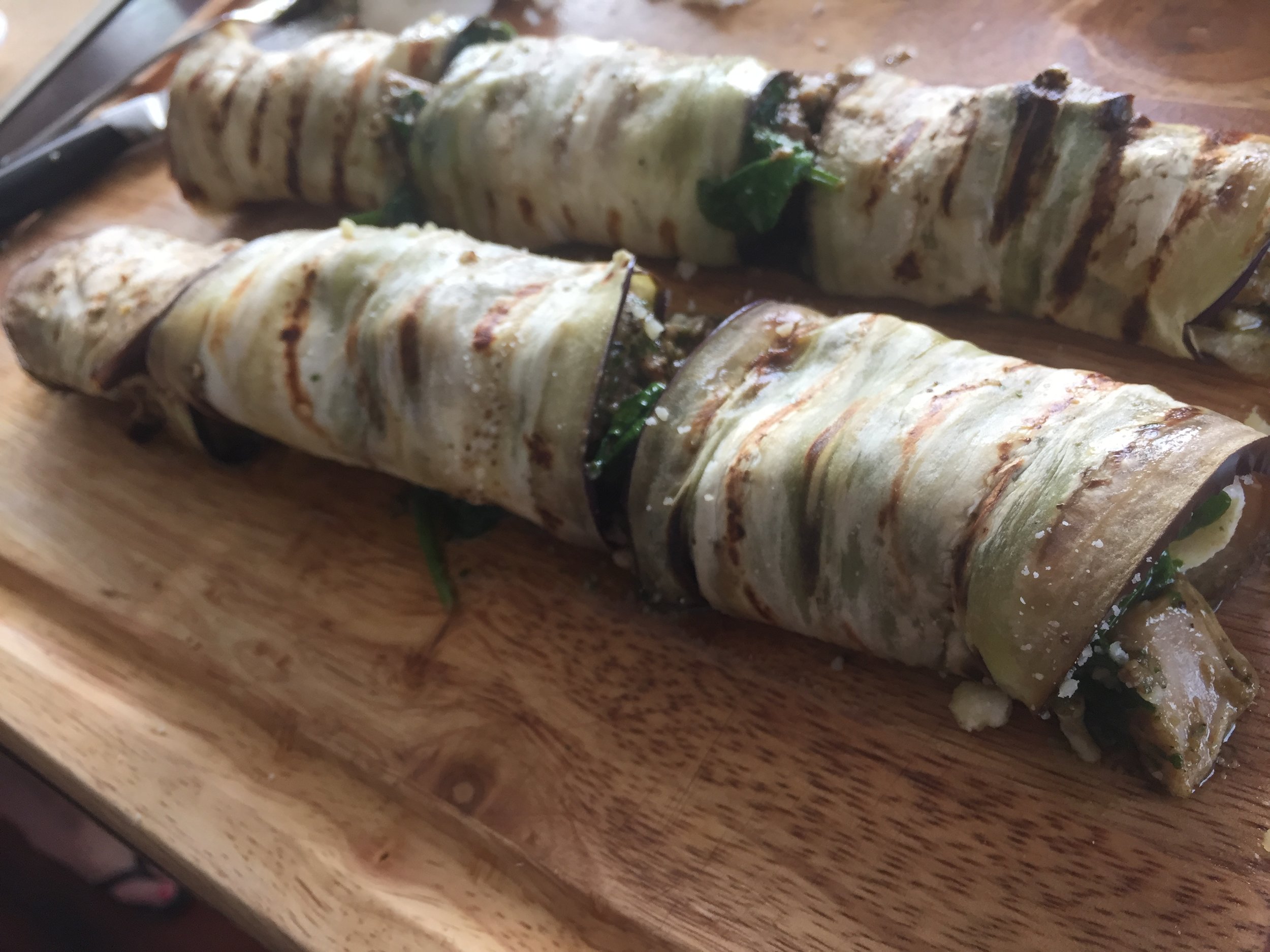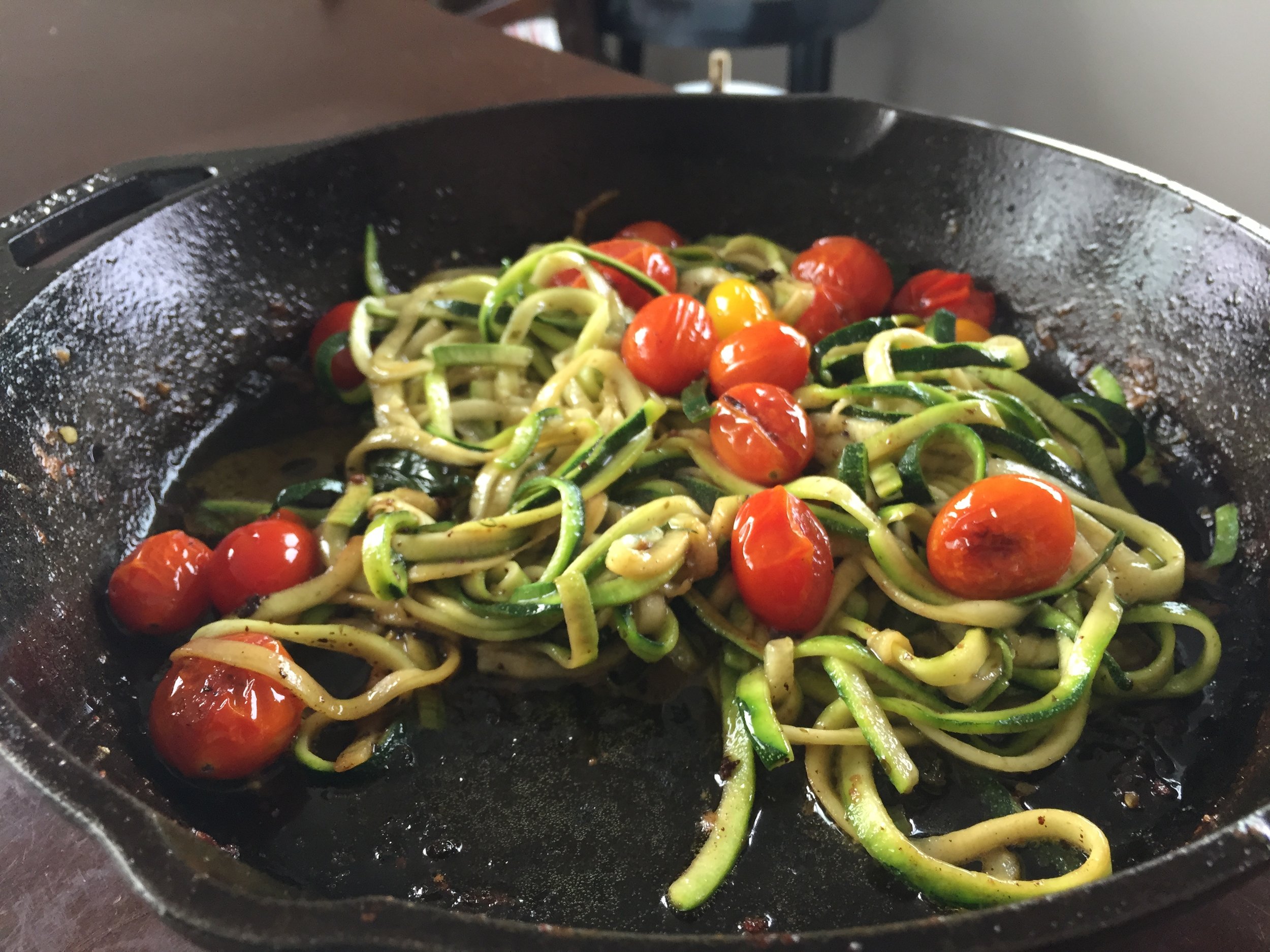 This goes very well with the simple pesto zoodles. My go-to recipe for zoodles is: roast some tomatoes in a pan, add the pesto sauce and then mix in the zoodles at the end. You don't really want to "cook" the zoodles because they will soften up and get mushy.