I have enjoyed the increased energy, health and mental clarity of ketosis for almost two years now and I can genuinely say that cutting out carbohydrates and replacing them with liberal amounts of fat has had a tremendously positive effect on my life. However, one of the biggest limiting factors to attaining ketosis is the abundance of meat and dairy that people generally rely on, which for many is an issue and whatever that reason may be, you've got to respect it. So, without getting into any of the discussion around health, ethics and environmental impact I wanted to try my hand with some more vegetarian and pescatarian friendly recipes.
My roommate doesn't eat meat or poultry and is trying to avoid dairy, but is also very interested in a high fat/low carb diet. Is it possible? Absolutely! We chatted about different recipe ideas and what foods to avoid. The very next day a coworker and I had a similar conversation!
...challenge accepted.
FYI... Greg, my longtime roommate and the other half of the Fatbody has moved up to San Francisco but don't worry the ketones are strong with that one. The new roommate is an old friend from home. One of my best in fact, and she's pretty good in the kitchen! So, I'm looking forward to seeing what kind of recipes we can bring to the table!
First up, we've got a very flavorful and easy to make sauce. It's light and refreshing, while not having an overwhelming coconut flavor. The coconut cream provides a dense supply of healthy fats with loads of green vegetables. If you are vegetarian or vegan this recipe would work just as well without the shrimp. Just throw in some extra veggies... sautéed kale, broccoli, mushrooms or all the above. Hemp seeds would be a very tasty way to supplement the protein.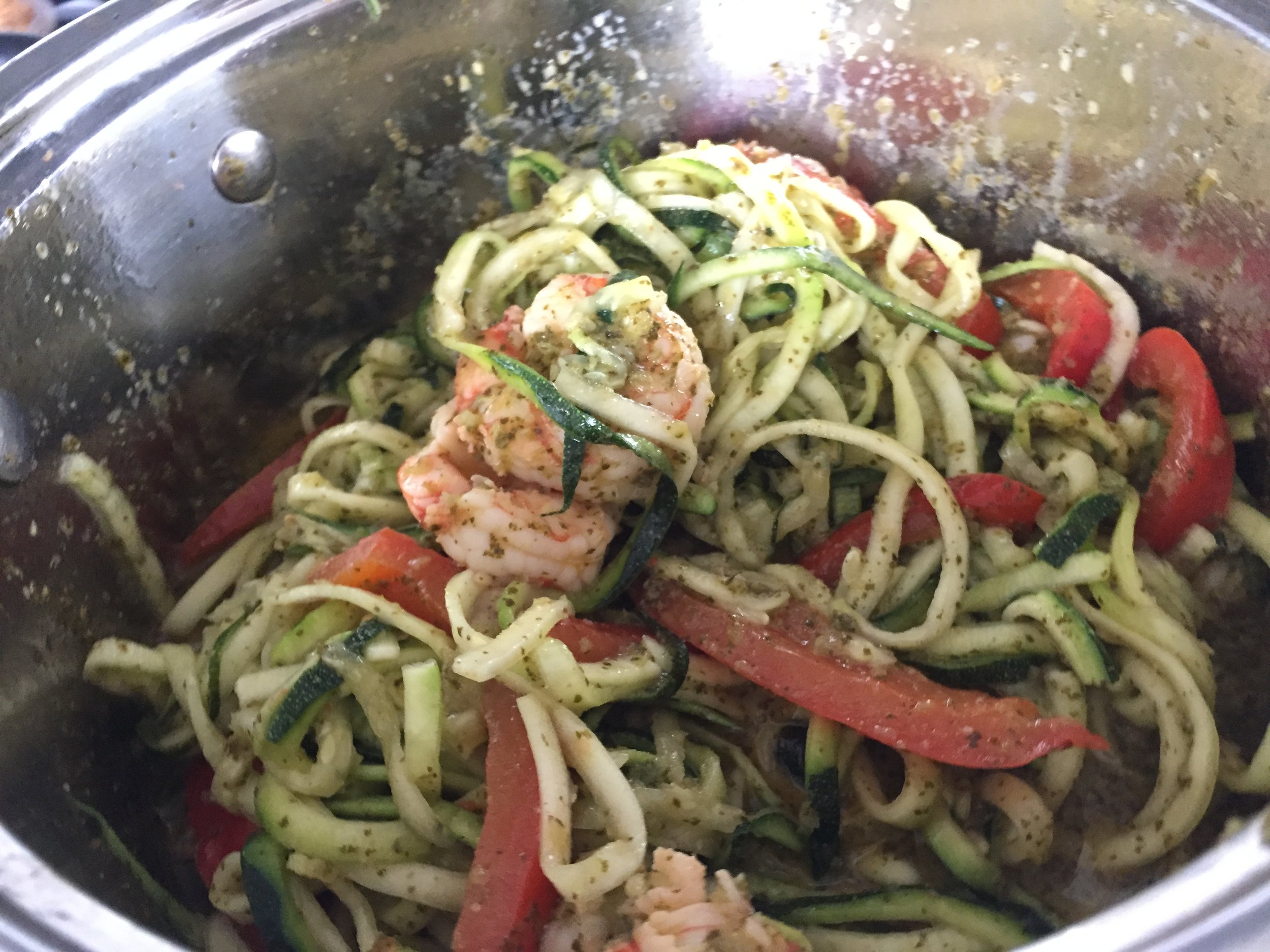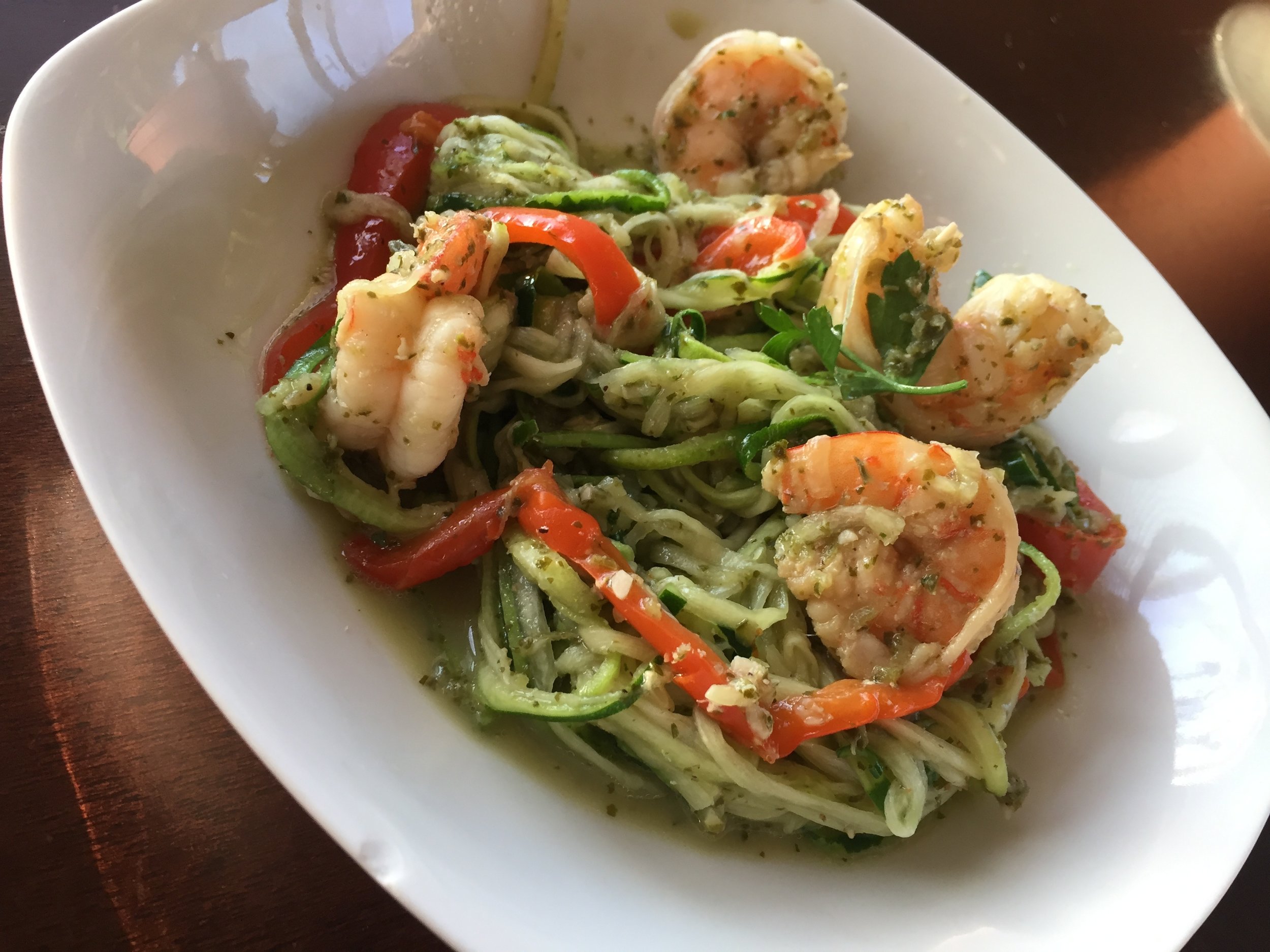 I've made this recipe a few times now and I will most definitely be making it a few more.
The Ingredients...
1 red pepper
1/2 poblano pepper
1/2 lime juice
1/2 bunch cilantro
zoodles (3 zucchini)
1 can coconut cream
1 teaspoon cumin
1 teaspoon garlic
1 teaspoon salt
1 teaspoon pepper
2 tablespoons olive oil
The Steps...
In a food processor or blender add cilantro and poblano pepper and blend until minced. Add can of coconut cream, salt, pepper cumin and lime juice and blend until you've reached a smooth and creamy consistency.
In a large sauce pan (you'll eventually be putting everything into this pan so make sure it's large enough) add a tablespoon of olive oil, red pepper, garlic and shrimp. Cook on low heat (so to not smoke the oil) for about 5 minutes or until the shrimp are pink and opaque. Remove from pan.
Add sauce and remaining oil to pan and raise heat slightly, on a scale from 1 to 10 you were at a 2 and raise it to 4. Let the sauce simmer for about 10-15 minutes. This will help to cook down some of the liquid and thicken up the sauce.
Reduce heat and add back the shrimp and red pepper. Allow them to simmer with the sauce for another 5-10 minutes.
Finally, add in your zoodles and toss until you've evenly mixed everything together! The trick with zoodles is to add at the END of the recipe. If you cook them for too long they become very mushy.
Eat a second plate, you've earned it.
The Macros...