The last 2 months have been quite busy for me... I turned 30, partied like I was 21, climbed a mountain, got a new roommate and started an amazing new job. A lot has changed, but the focus on my health has not and I've got quite a few new recipes to catch you guys up on...
So, what is the first thing I cooked after returning back from my backpacking trip? A big old chicken of course!
Roasting a whole chicken can be intimidating, but it really is quite easy. The hardest part is dressing it but I've got a killer rub for you guys today! This chicken was so flavorful with just a little spicy kick and none of the unwanted sugar! If you are on a budget this is a great option too. Granted, it does require a little more work, but it's so worth it and much less expensive than buying thighs and breasts. To put it into perspective a whole (free range) chicken costs a little bit more than a pound of free range chicken breast, but with the whole chicken you get the legs, thighs and wings to go along with it! And best of all you get the bones, which I always boil down and make a nice chicken stock for soup!
I prefer my skin to be a little crispy because when the butter and spices are baked into crispy skin... there's just nothing better. In order to do this without drying out the chicken you're going to want to cook the first 20 minutes or so (depending on size) on high heat (450F) and then lower it to 350 for the remainder of time.
We're also going to butterfly the chicken. This is not required, but it is great for shaving a few minutes off the cooking time and I think it makes for a great presentation. Youtube can show you better than I can explain it so here is a quite video on how to butterfly:
Ok now that you're a butterflying expert, let talk dressing the chicken. Once you have the chicken laid out (as seen in the video) carefully separate the skin from the breast and now you're ready to load in the ingredients. Here we go...
The Ingredients...
Whole Chicken (4-5 lbs)
7-8 Mini Sweet Bell Peppers
1/2 large onion (I prefer Red Onion)
1/4 cup of butter
1/4 cup of coconut oil
teaspoon cinnamon
teaspoon oregano
teaspoon chili powder
teaspoon cumin
tablespoon garlic (crushed or minced)
teaspoon salt
teaspoon black pepper
teaspoon smoked paprika
teaspoon liquid smoke
1/2 teaspoon cayenne pepper
The Steps...
Preheat oven to 450 degrees F
In a bowl mix butter (room temp), garlic and liquid smoke. Lather up the bird everywhere that will be facing up... around the wings, legs, breast and under the skin. It's important to get some of the butter mixture under the skin and on top of the breast. This will really help keep the breast from drying out.
Mix all dry seasonings together in a bowl and the same thing you did with the butter mixture. Rub the bird all over and throw some underneath this skin as well! Save a little seasoning for the peppers and onions...
In a large pan add the peppers and onions, cut into strips. Mix in the coconut oil and remaining seasoning until evenly coated
Put the chicken in the pan resting on the peppers and onions. You'll want to make sure the pan is large enough that the chicken isn't bunched up.
Uncovered put the chicken in the oven for 20 minutes at 450. Then, reduce to 350 and cook for 40 more minutes. FYI this was based on a 4.5 lb chicken. Cooking times will vary depending on how big the chicken is.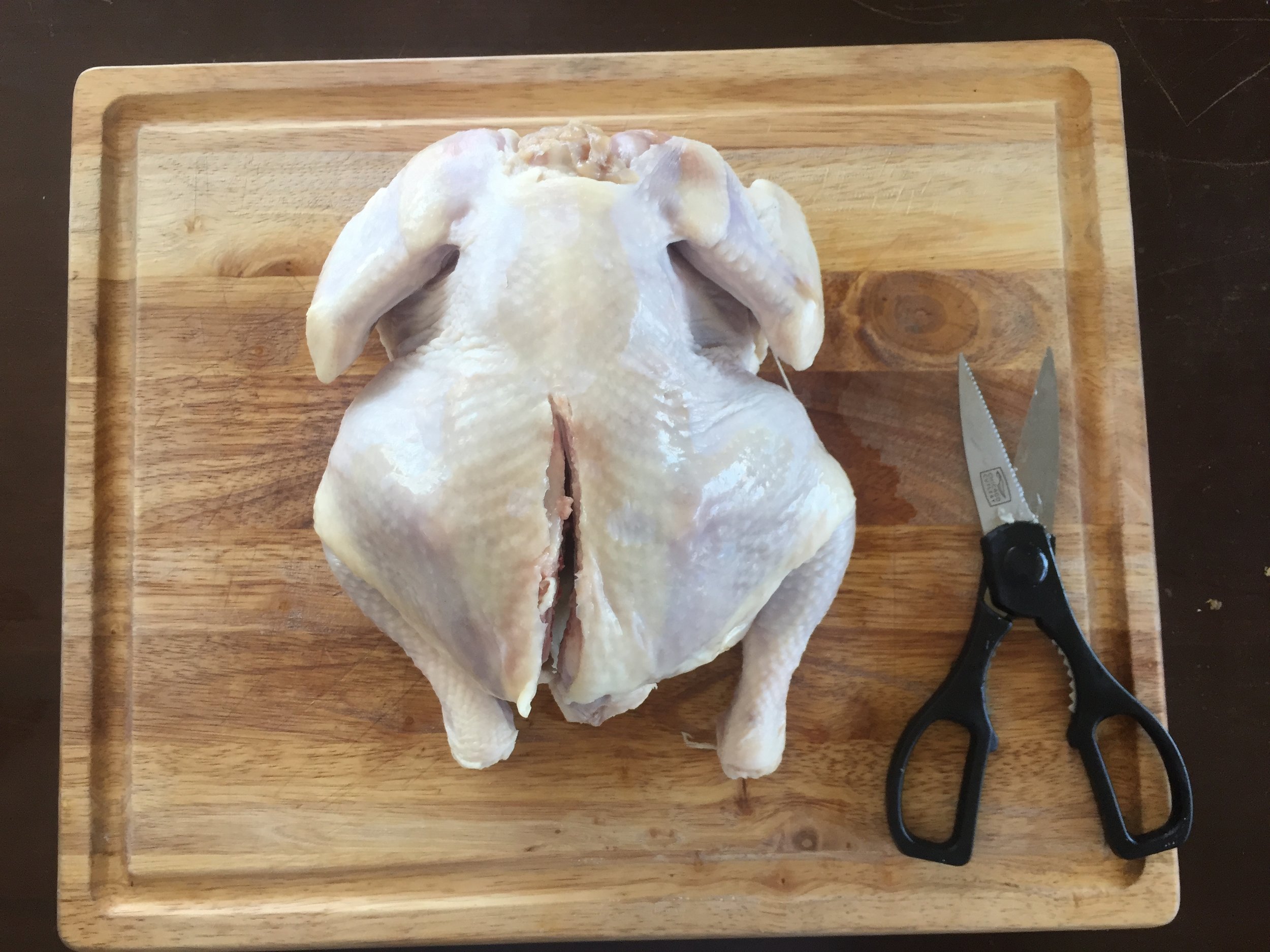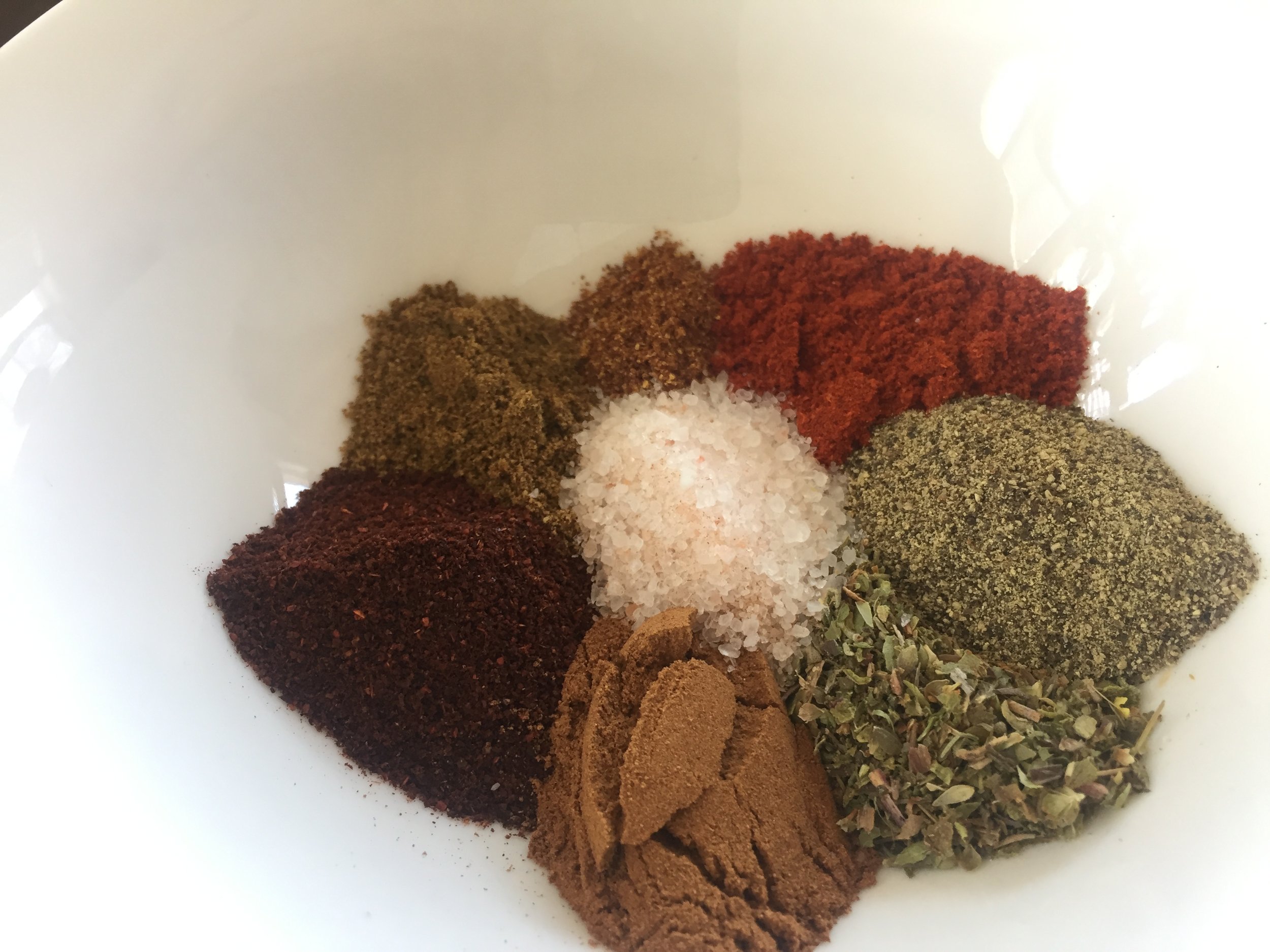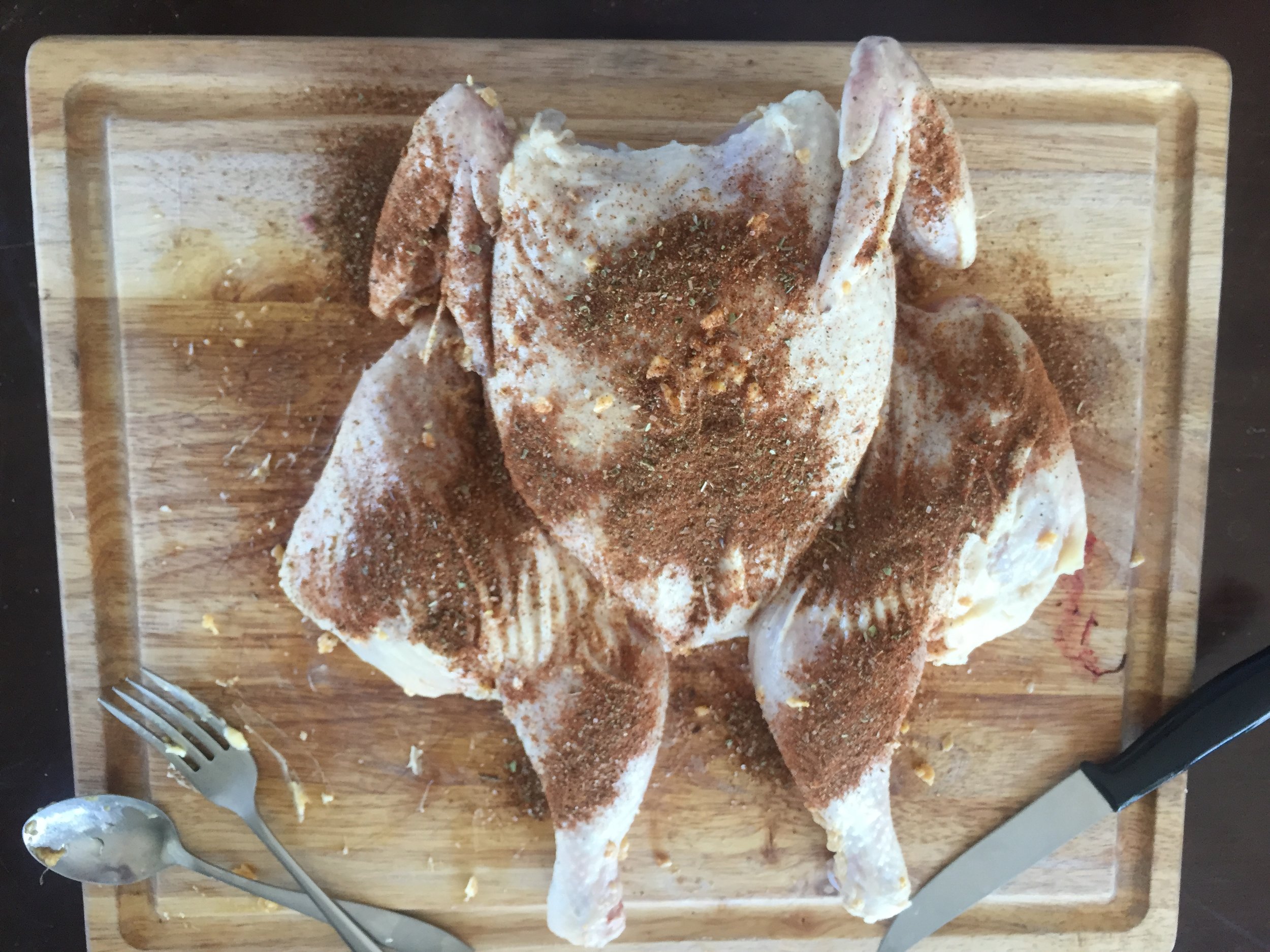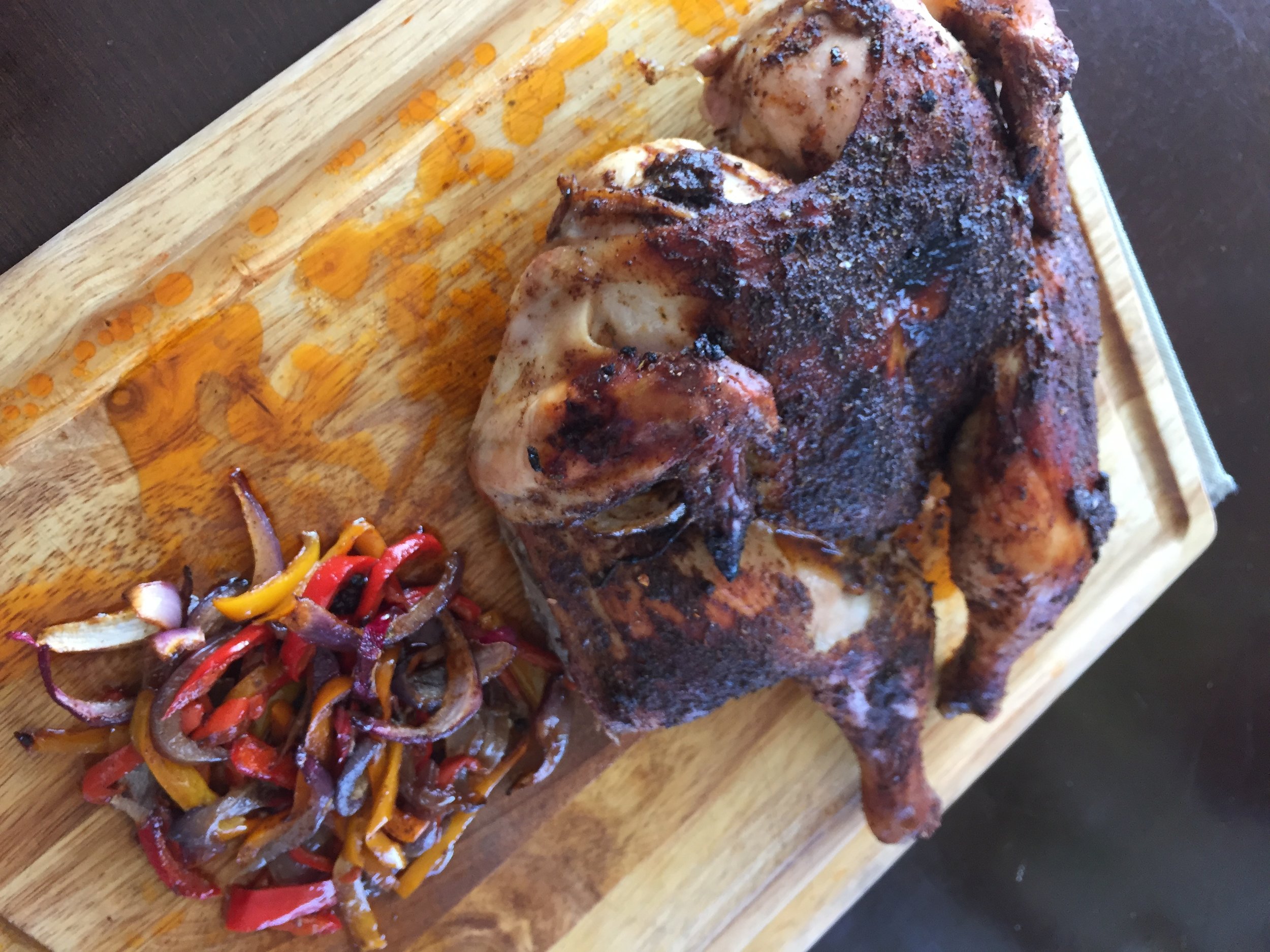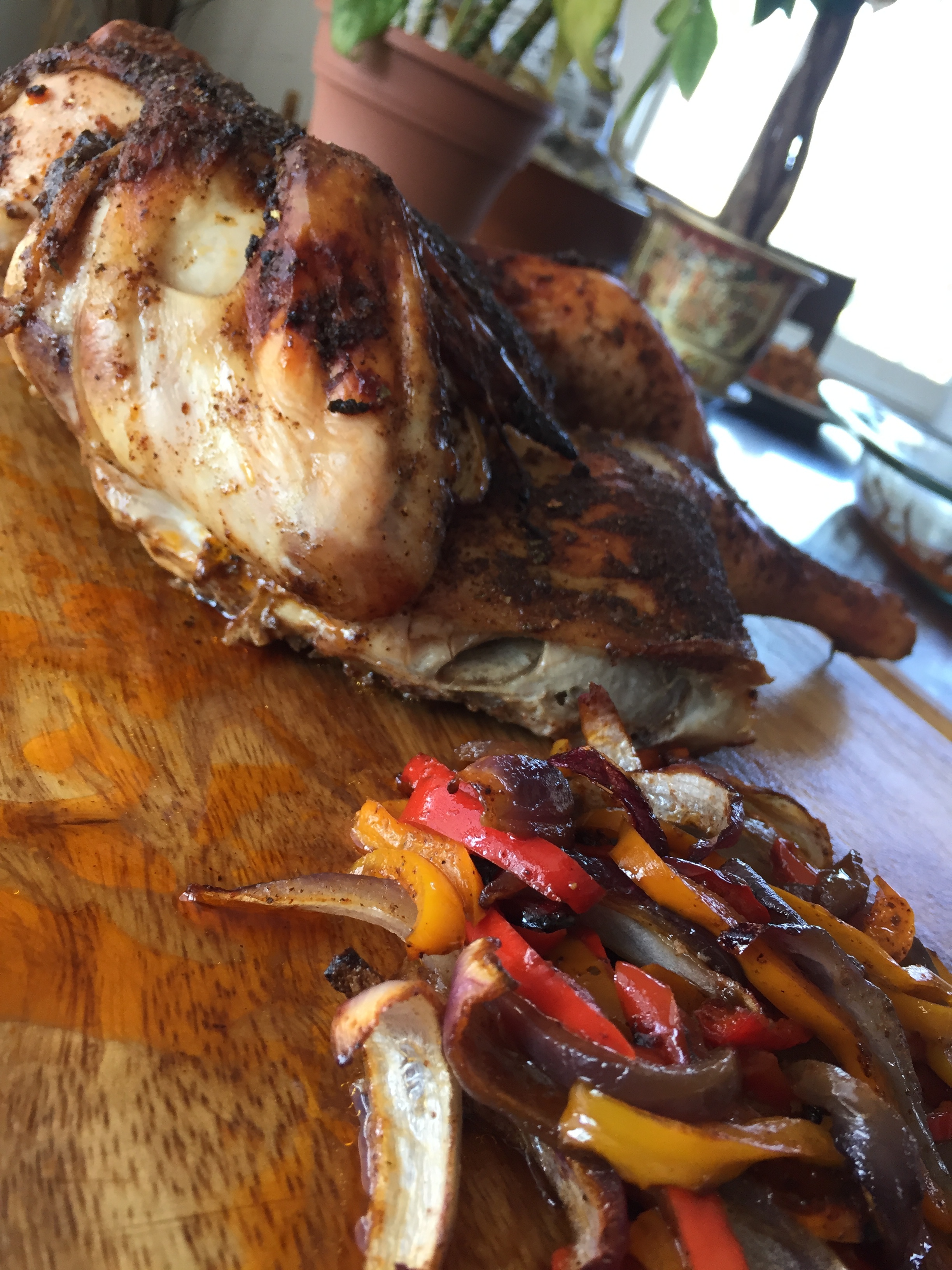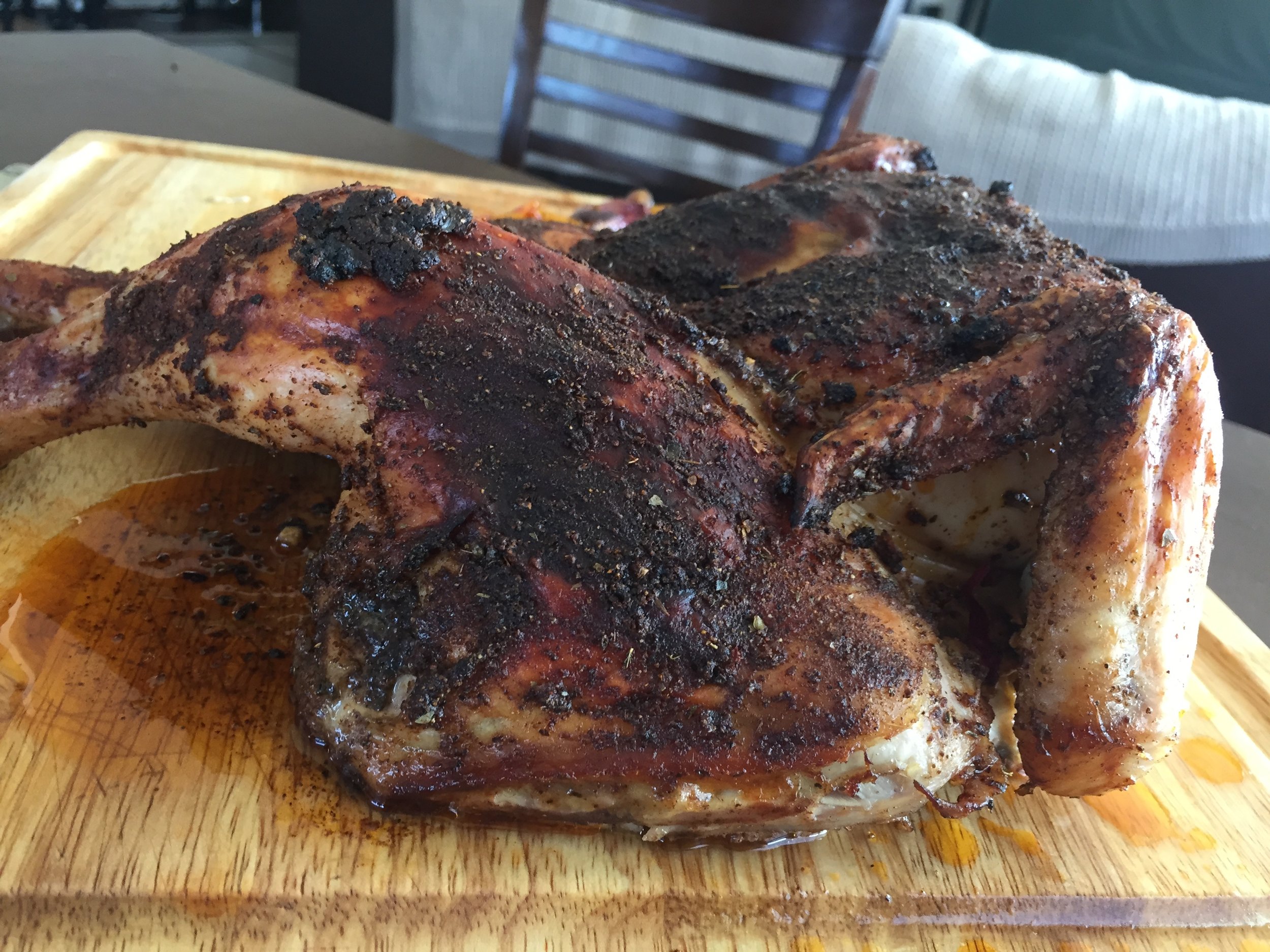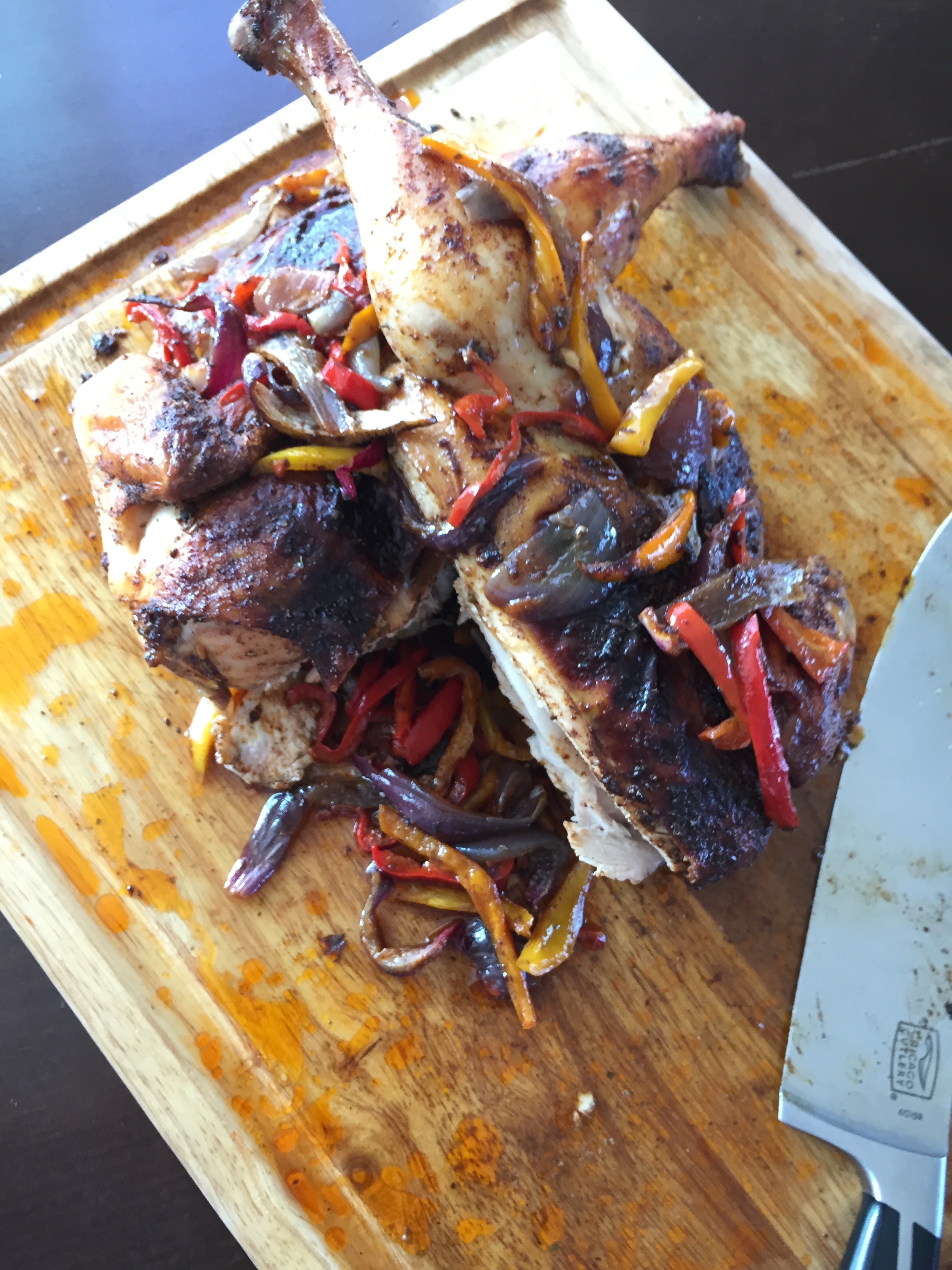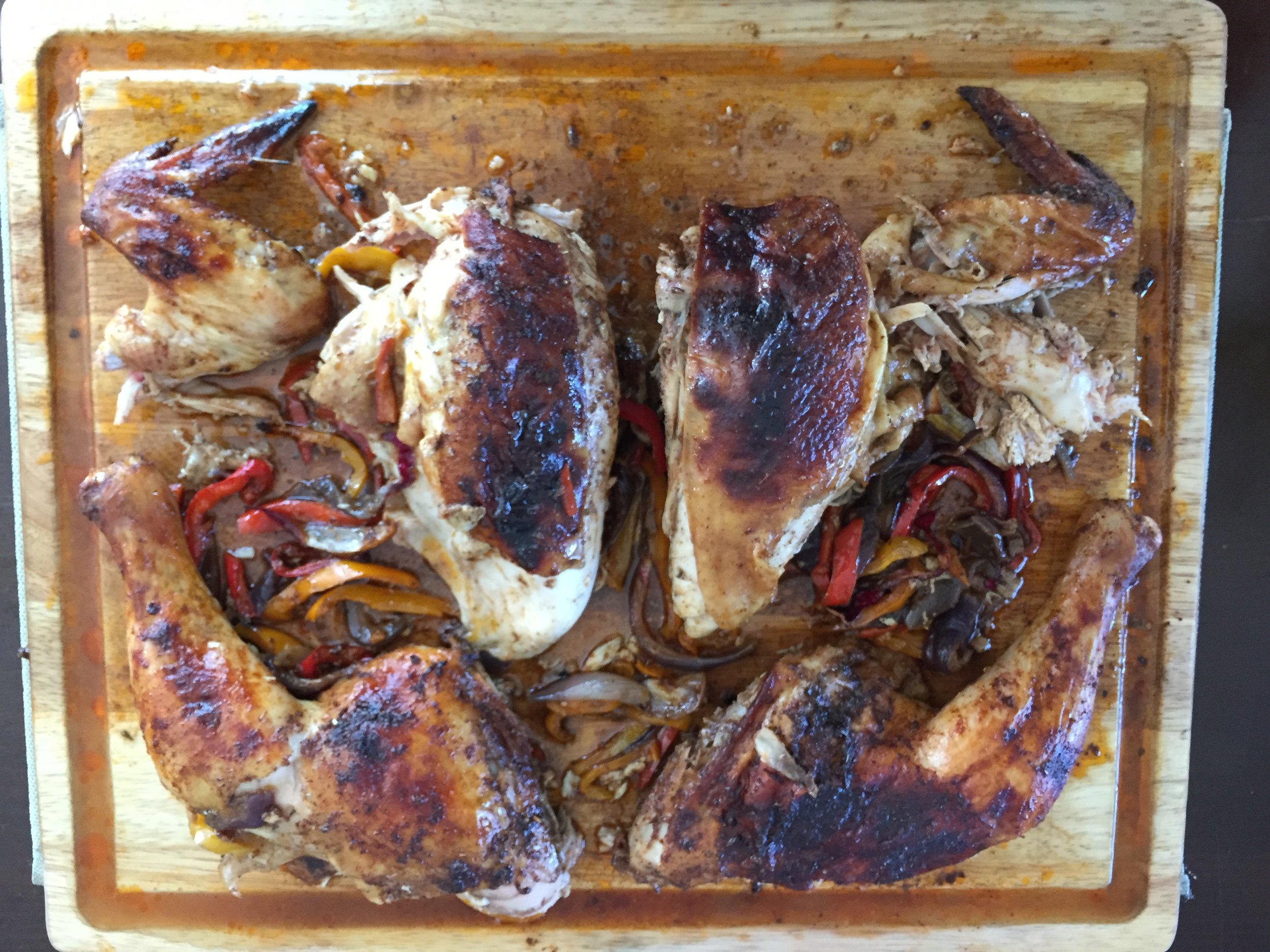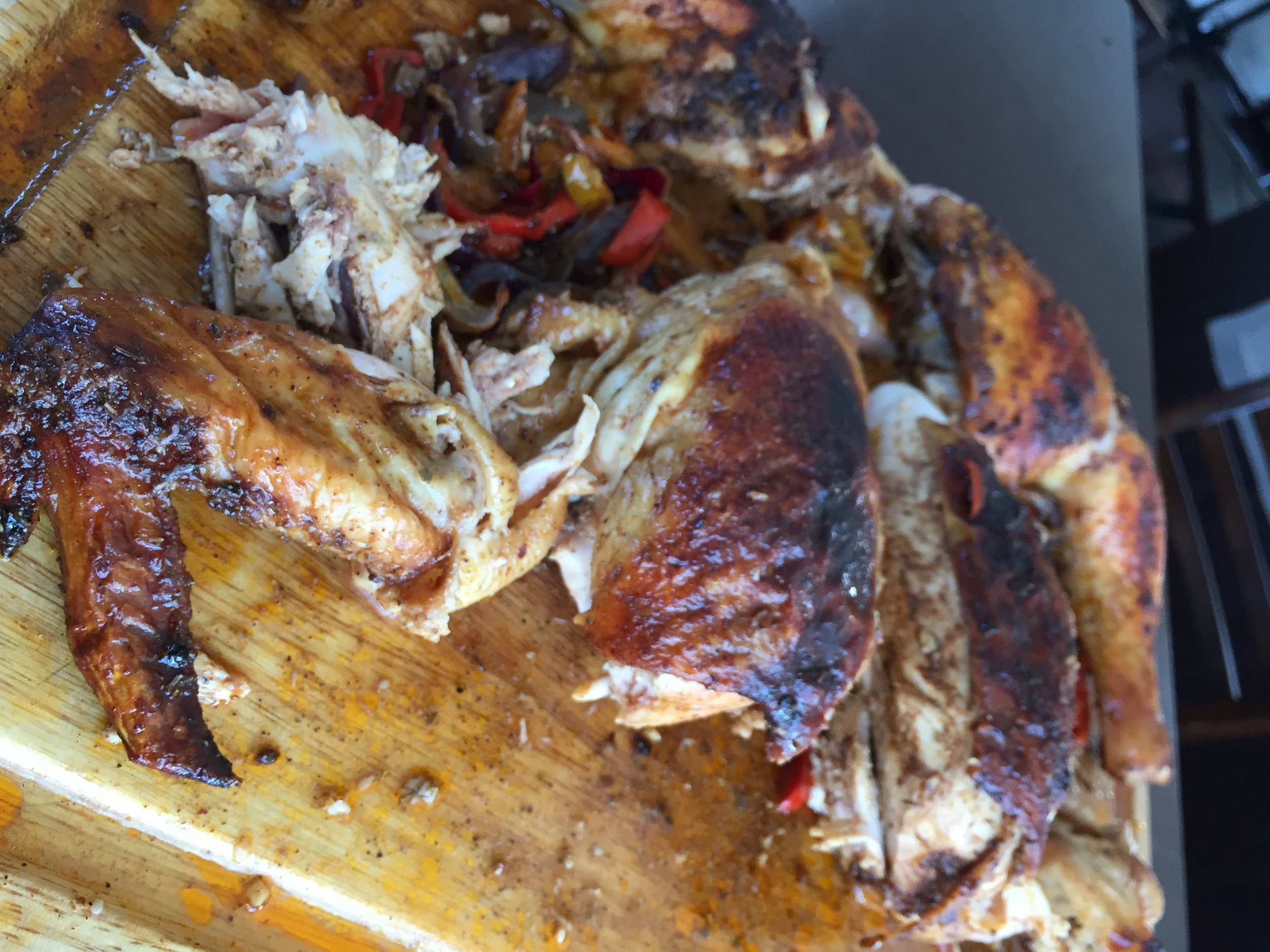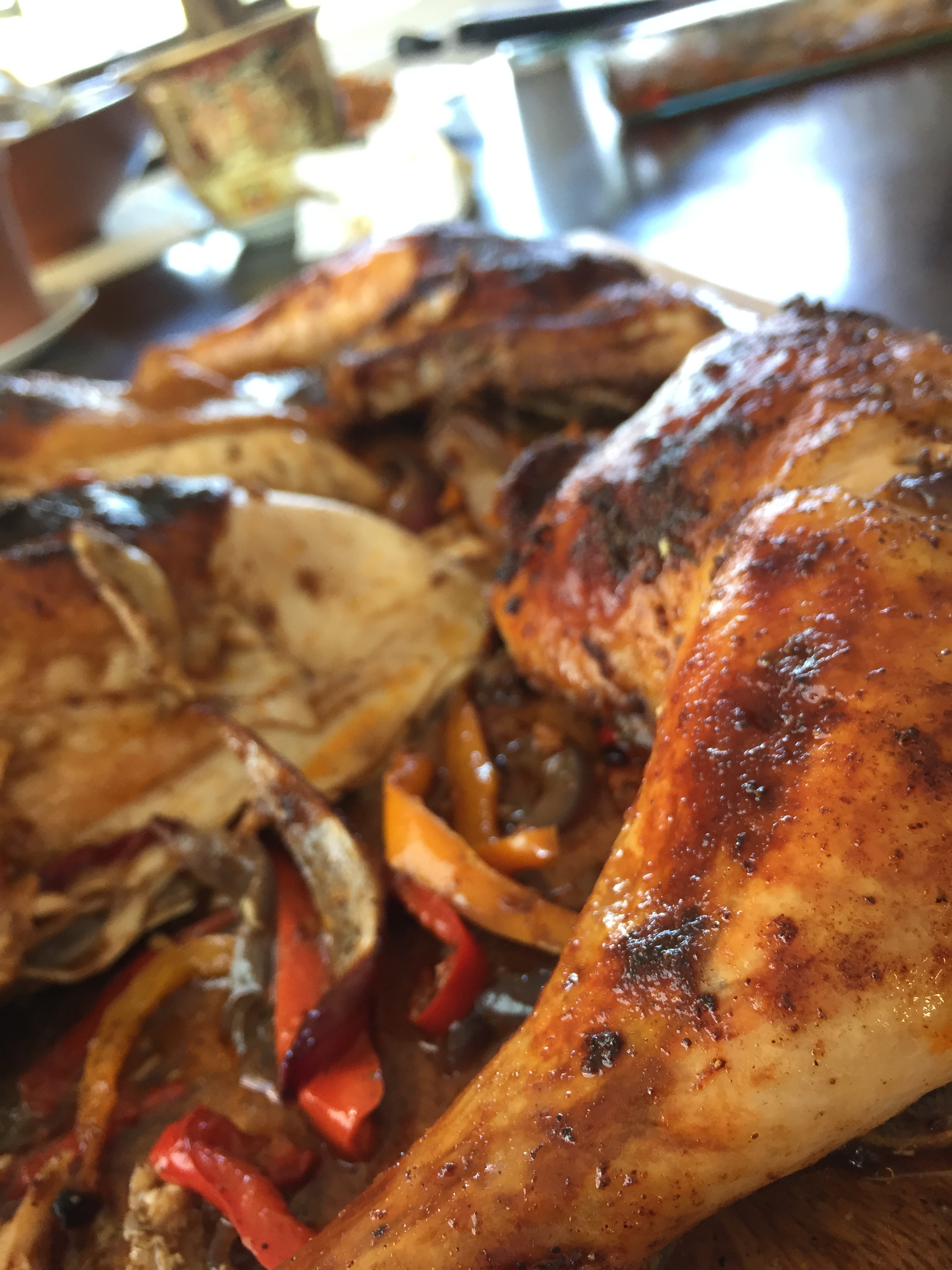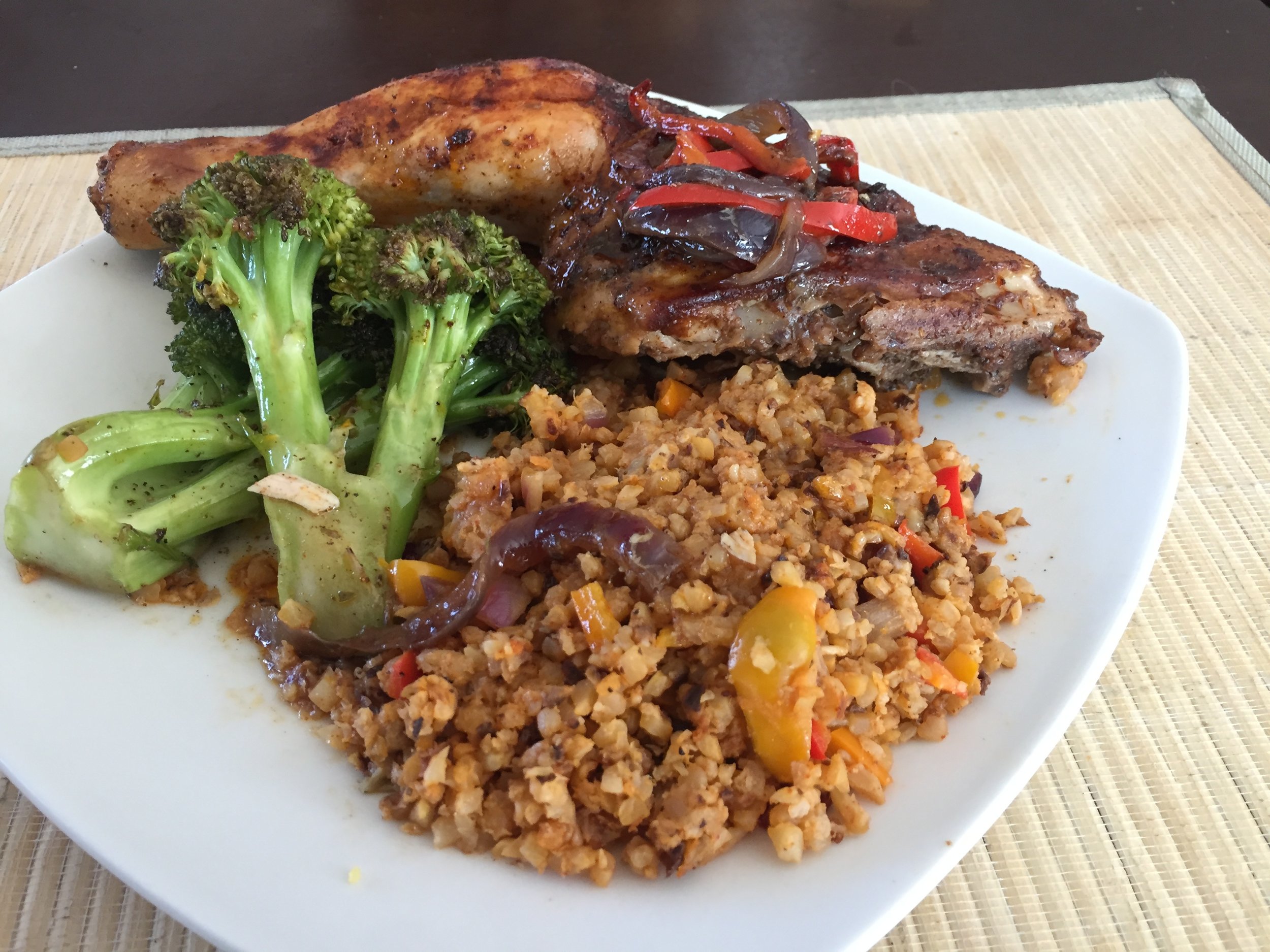 The Macros...
Calculating macros for a whole chicken is not a very accurate measurement considering the particular parts and skin play a big role in the fat/protein content.
In regards to the extra oil and butter added. I would estimate based on how much of the fat/oil you retained considering most of it will be in the pan.